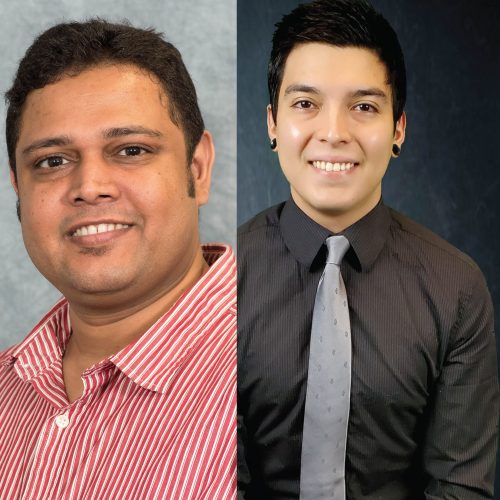 Questions regarding awards/awards nominations may be forwarded to Sylvie Nguyen-Fawley.
Questions regarding Fellow Member nominations may be forwarded to Tim Manicom.
Dr. Iftekhar Ibne Basith, and Gonzalo Sanchez Jr.
Dr. Iftekhar Ibne Basith
Dr. Iftekhar Ibne Basith is an Assistant Professor in the department of Engineering Technology (ETEC) at Sam Houston State University (SHSU), TX, USA. He finished his M.A.Sc. (2011) and Ph.D. (2016) in Electrical and Computer Engineering (ECE) from University of Windsor, Windsor, ON, Canada. Previously he served as Visiting Assistant Professor at University of New Haven, CT, USA (Fall 2016). Dr. Basith received the very prestigious NSERC CGS Scholarship for his doctoral study in Canada.
Dr. Basith's research interest includes Robotics, Automation and Control, Testing, 3D IC, MEMS, Analog/Mixed Signal IC etc. He has published several IEEE Transactions, journals and peer reviewed conference proceedings. Dr. Basith has been actively publishing and attending most ASEE events. This year, Dr. Basith published one student poster with ASEE GSW Conference in New Mexico. He also has couple DELOS papers with two undergraduate student and one FDD (Faculty Development Division) paper with other faculty members to be presented in ASEE 2020.
Dr. Basith has actively been involved in student recruiting and outreach activities for ETEC at SHSU. Currently he supervises the ETEC Ambassadors and KatatroniX robotics club. Dr. Basith attends several school district's recruiting events on year round basis. He is also actively involved in department, college and university level committees at SHSU.
On a personal note, Dr. Basith is very easy to connect with, easily approachable, and practices very friendly relationship with his students. He is happily married with three kids. His favorite quote is: "You are the maker of your own destiny".
Gonzalo Sanchez Jr. Bio
Gonzalo Sanchez, Senior undergraduate at Sam Houston State University completing for his bachelor's in electrical & computer science engineering in tech. As a kid growing up, he would always mess with electronics and combustion engines. Taking motors apart, and field testing on the spot to see what reaction would happen. Throughout high school, he started experimenting with small robotics and 3D CAD designing. He received a certificate of recognition by FANQ; a nonprofit organization for Bolivian children with severe burns. Freshman year in college he took lead in designing a first-place winning trebuchet catapult for his engineering design course. He had a vision and followed through with it, no matter how hard something would get, he wouldn't give up. That same drive pushes him today through college and his work. With every failure there is growth, the Wright brothers saw something so many would dismiss as possible, with developing research and failures, they achieved man's first flight, which overtime gave birth to the Lockheed A-12. To find people with the same motivation and passion, to work together in think-tanks and make new discoveries. Invent and develop, to put conceptual ideas into reality. To see a project as art that continuously grows with each correct brush stroke. Gonzalo is much honored to be recognized by Lockheed Martin & ASEE for this prestigious award.